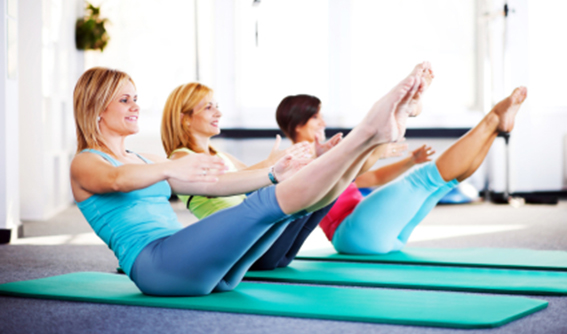 Training Options
Hunterdon Pilates provides a number of training options for each student including:
Cardiovascular Training: The double-reduction pulley system allows for smooth linear as well as three-dimensional movement of the handles at any speed. Whether you choose to face towards or away from the Exero™ System, utilize a step, bosu, or the floor–your freedom to move is unlimited.
Unilateral Training: The Exero™ System allows you the flexibility to work both the left and right sides of the body individually. You can choose to work upper and lower body unilaterally or add more resistance on one side while isolating the other side of the body with suspension work. The Exero™ System offers trainers endless possibilities.
Bilateral Training: The Exero™ System incorporates both weights and spring work at varying degrees of resistance, making the Exero™ System's workout customizable for all athletic abilities.
Suspension Training: The suspension lock on the Exero™ System gives you the option to lock the cables into place at many different levels, giving clients the versatility to adapt the machine to a custom fit for different body types, sizes and athletic abilities.
For more information about the Exero@System go to www.exerosystem.com
Private Sessions – focused on individualized training
Semi-Private Session – two students training together
Classes – group sessions varying in size.
CLICK HERE to see our schedule of offerings and book a class online.
Pilates Pricing
Hunterdon Pilates offers single session prices or discounted packages for our clients
Private Sessions

Single 60-min Private Session: $70
Package of 5 60-min Private Sessions: $335 ($67/session)
Package of 10 60-min Private Sessions: $650 ($65/session)
Package of 20 60-min Private Sessions: $1,200 ($60/session)

Semi-Private Sessions

Single 60-min Semi-Private Session: $55
Package of 5 60-min Semi-Private Sessions: $260 ($52/session)
Package of 10 60-min Semi-Private Sessions: $500 ($50/session)
Package of 20 60-min Semi-Private Session: $900 ($45/session)

Fascia Stretch Therapy

Single 30-Minute Session $45
Single 60-Minute Session $90

Dr. FIT Sessions

Single 30-min Session: $50
Package of 5 30-min Sessions: $225 ($44/session)
Package of 10 30-min Sessions: $400 ($40/session)

Classes

Single Class $25
Monthly package (4 group classes) $100
Monthly package (8 group classes) $160 ($40 savings off single class price)
Monthly package (12 group classes) $180 ($120 savings off single class price)
All classes must be used within 30 days of purchase date.
All cancellations must be made up prior to the 30 day package expiration.
Unused classes will not be carried over beyond 30 days
All classes are 50 minutes long.
All classes & group sessions are pre-paid-registration is required, please register on Mindbody.
Must have Dr's note to participate in the pre-natal course
Teens and college students must have student ID